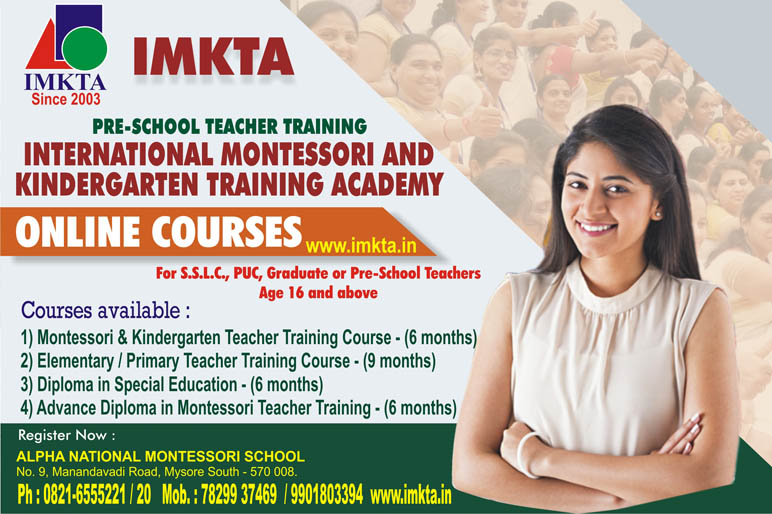 IMKTA
IMKTA is one of the pioneer Montessori teacher training institutions in India that provide excellent training to all those candidates who want to become a teacher in the future. The online teacher training course curriculum is the result of years of extensive research. The curriculum is simple and lucid yet complete with in - depth knowledge on topics concerning child development, psychology, Montessori Method of Teaching and school set-up

Online / E-Learning mode is mainly for candidates who reside anywhere throughout India or the world but cannot come personally to our institute to attend classes.
Our Success:
IMKTA has been in the teacher training field since 2003 and during this time has produced teachers who can easily become role-models to young impressionable minds.
IMKTA online Montessori Teacher Training diploma holders Online are placed as teachers, co-teachers, assistant teachers, principals, supervisors, course-coordinators, curriculum planners, child care takers in prestigious schools and child care set-ups throughout India and abroad.
Affordability of the Montessori Teacher Training Course:
Our Montessori Teacher Training Online Course fees at a low price .We send Online Montessori Training course materials and assignments to our students without any extra cost. Easy-to-manage payment options offer further convenience.
Benefits
• Our Online IMKTA teacher training programs gives you the flexibility to study at your own place, in the comfort of your home and also at affordable fees
• There is no age bar to undergo Online IMKTA teacher training Course. Anyone above the age of 16 is eligible to do this Online IMKTA teacher training programs
• This certification provides our candidates with an entry point into schools of State/CBSE/ICSE/IGCSE/IB board in India and abroad.
• Kindergartens, pre-schools, crèches, activity clubs, toy libraries are the places where job prospects are very high for our online nursery teacher training diploma certified candidates.
• It is highly economical to take up this online IMKTA programs as you would save the money that is required for travelling to and fro for attending regular lectures.
• It is perfect for college-going candidates and individuals who want to pursue their further education and also take care of family and job responsibilities.
• The best part of this IMKTA Online Teacher training Diploma Program is that the term "online" will not be mentioned anywhere on the marksheet and certificate. This will help the online candidates to become certified teachers without having to travel to a different place to take up the course.
• IMKTA Online Teacher Training Diploma Programme is as valuable as other fulltime or part-time in class programmers as the curriculum has been designed in such a way that it equips our online candidates with both theoretical and practical knowledge.

IMKTA provides the following online teacher training courses like online
a) Diploma in Montessori and Kindergarten Teacher Training course – 6 Months.
b) Diploma in Advance Montessori and Kindergarten Teacher Training course – 6 months.
c) Diploma in Elementary/Primary Teacher Training Course – 9 Months
d) Diploma in Special Education- 6 months
• The features that we offer in our Online / E-learning mode are as follows:
• The study material is e-mailed to you in a PDF format.
• The trainers training the aspiring teachers are extremely experienced and well-informed about the study material.
• The trainers will be constantly in touch with you throughout the course through phone or emails.
• The trainers will guide you, answer your queries, and assist you to complete your course satisfactorily.
• The teacher training course curriculum designed for the online/e-learning candidates is excellent and up-to-date with the recent trends in education.
• Evaluation is done on the basis of assignments which are e-mailed to you.
• You don't have to come to our institute to collect your mark sheets and certificates.

Eligibility
Anyone with SSLC, PUC or any degree level qualification or qualification higher than that is welcome to enroll for this Online Teacher Training Diploma Programme.
Documents Required (Scan and mail)
• Passing certificate or mark sheet of your highest qualification
• One recent passport size photograph

Certification