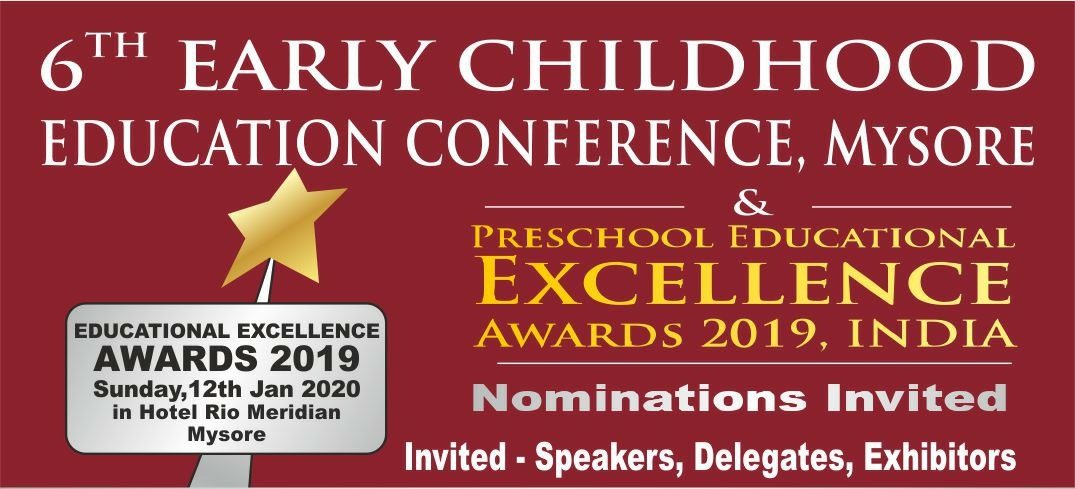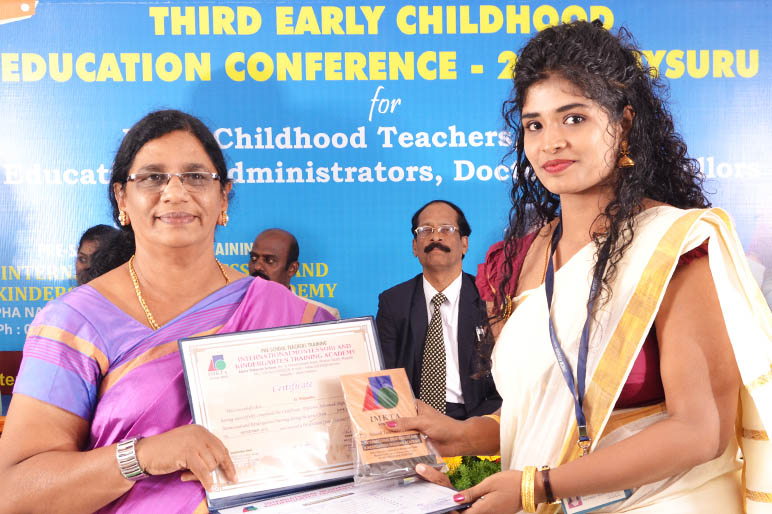 6th Early Childhood Education Conference And Top10 Pre-school Education Excellence Award 2019
"Emerging Trends In Pre-School Education"
To be held in Mysore, Jan 12th 2020
This Event Brings People together to Recognize the impact of high quality Pre-School Education on life of young Children and their Parents and Development for Pre-School Educators, Teachers and all Stake Holders
The Conference will Explore the Current and Emerging practice, Professional Development, Available resources, Opportunities to meet the leading Pre-School Education material supplies to support early Childhood Education
The Theme of conference
"Emerging Trends In Pre-School Education"
NOTE: The speakers are invited to select any area of the Pre-School Education with regard to the following topics

1. The Global future of Early Education in the era of Digitalization.
2. Artistic and Aesthetic Develpment in Early Childhood.
3. Pre-School Children in Multicultural Environment.
4. Role of Books in Pre-School Education.
5. Public, Private partnership Development in Pre-School Education.
6. Inclusive Education for Early Childhood Programmes.

* Abstract to be mailed with an 100 words mentioning Aims, Objectives, Methods and Results to imktamysore@gmail.com *Duration will be 10min presentation

Brain Storming Areas- 20 min 1. Accrediation and Quality in Pre-School Education.
2. New challenges in Pre-School Education with regard to Teacher training and Recruitment.
3. Incresed assessment of Young learners.
4. Applicants with Diploma in Pre-School Teachers training at high demand.

Top 10 Pre-School Education Excellence Awards:- Nomination invited for :- 1. Best Pre-school Co-ordinatior/Center Head Award 2. Best Emerging Preschool Of The Year Award 3. Best Innovation In Preschool Of The Year Award 4. Best Standalone Preschool Of The Year Award 5. Best Innovative After School Model Award 6. Best Infrastructure In Preschool Education Award
Nominee Should Mail in Brief : Profile of Nominee, Work Experience, School Established, Any other Rewards Received Earlier, Vision & Mission of Pre-School Education in their own Words imktamysore@gmail.com Registration Charges for Conference and Top 10 Awards Registration charge includes High Tea, Lunch, Participation Kit, Certificate and Momento. Candidates Wish to apply two or more categories will be given 10% Discount on net registration fee. Fees details for Conference
Registration
Fees details for Pre-School Excellence Awards
Note * IN ABSENTIA- Interested Nominees who could not travel down to the Award function Can also Nominate for Awards. Their Certificates & Momentos will be couriered to their address.
Note * Above registration charges excluded 18% tax
REGISTRATION FEES CAN BE MADE BY THE FOLLOWING METHOD
Registration and Nomination charges can be paid to the following address through cheque/ neft/ online transfer
Canara Bank:-
Account Name:- IMKTA Mysore Ifsc code :- CNRB0000877 Account :- 0877101033807 Area :- Industrial suburb branch, Manandavadi road, Mysore South - 570008.

---